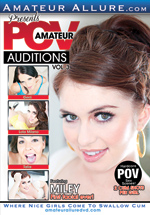 Release date: October 16, 2013
18 year old Miley has returned for her first facial ever! After she blew me for a while, I fucked her tight little pussy and shot a huge load all over her face, then she went back for a second one. I love my job!

Welcome Lola! This sexy French-Canadian beauty is 23 year old and here to take on two very nice cocks! Lola has beautiful brown eyes, a thin frame, and stands 5'6" tall. Her secret fantasy is to give head while being fucked. She came to the right place!

Gerri is back again. She's a beautiful girl. She wants a facial, I agree it's time. I really showed up with a nice big load and she got it all! She swallows a second one just to finish me off. Enjoy, Thomas.

Talia is finally back and the wait was well worth it. I get to hit that juicy butt some more before ruining her nice makeup job. Always a good sport, she takes a giant load on her face with a smile, then sucks another one out of me for good measure. Awesome!