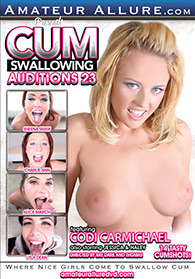 Release date: September 23, 2015
Including 14 Yummy Loads!!
Where Nice Girls Come To Swallow Cum

Jessica is a 20 year old teacher's assistant that heard about my informal blow job school and had to come get a lesson. She was much better than I expected, and only needed a few pointers. Massive loads delivered.

Ray and Justin invite a couple of fun girls over for a barbeque and things get crazy! Sexy little Alice March returns with our hot new friend Lyla Dean! This foursome explodes in a fuck-fest as three loads go down!

Charlie Ann has an oral fixation, so Ray takes her tonsils on a torture test. Charlie Ann takes some nasty, crazy throat fucking action like a champ! Ray unloads in her hot mouth twice.

Codi Carmichael is very nervous at first, because she has never been photographed engaging in erotic activity, but aims to please and does very well. She sucks Ray's cock and eagerly swallows two big loads of man-chowder!

Haley is here to be an Amateur Allure star! Why? She loves giving head, that's why! More than enough reason for us. The redhead head begins here…

Sheena Shaw is a wild 26-year-old accountant from Naples, Florida that has a hunger for cum. After two red hot suck & fuck sessions, Ray delivers! Lots of hot deep throat action. Two big loads go down!