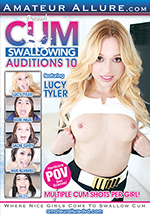 Release date: May 12, 2014
Hardcore POV Sex Scenes! 2 Cum Shots Per Scene!
Where Nice Girls Come To Swallow Cum

Lucy Tyler is19 and hails from Seattle, Washington. You're going to LOVE Lucy! Ray breaks out his secret weapon -- his magical vibrating wand! Lucy's pussy floods and her cheeks flush as she absolutely EXPLODES three times on Ray's cock before taking two hot loads!

Edie Haze is a gorgeous brunette college student from South Carolina on vacation in California. Edie is only 18 years old and stands 5'9", with amazing legs and a sexy mouth that is comfortable with a cock in it. She takes Ray's cock all the way down her throat with ease and he gives her sexy shaved pussy a workout. Then he shoots two big loads down her throat!

Beautiful young Sadie Grey is only 18, has crystal blue eyes and loves riding horses. She likes doing something else as well ;-) Ray takes her for a ride and Sadie proves that she's a naughty one. He bangs her hard and she swallows two big loads!

22 year old babe Ava Alvares is from Miami, Florida and stands 5'4" with amber eyes, a sexy smile and a juicy round ass. She's a waitress in South Beach and has never done anything like this before. Ray fucks her hard then dumps two huge, creamy white loads in her pretty mouth.

Riley is a very cute, 18 year old brunette beauty with a gorgeous ass! She has never given head before and is looking for some instruction. Riley has an awesome mouth and is eager to learn some fellatio skills. She swallows two loads and seems very proud of her new cock sucking skills!