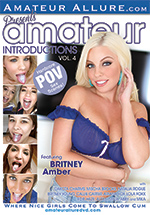 Release date: November 27, 2013
PRE 23

Britney is an adorable blonde who has never done anything like this before, but is excited to give it a shot. She sucks Ray's big cock like a champ and passes with flying colors!

Southern cutie Dakota drops to her knees for an amazing suck-job and swallows every drop at the big adult show in Vegas. This girl just loves to have fun!

Lola brings her girlfriend Callie over for a hot double-blow job & cum swap. These two cocksuckers know how to take care of business!

This was Mika's (Kira Sinn) first ever visit to Amateur Allure, and you can tell she is a little nervous. We quickly fix that. The young hottie from Las Vegas does a great suck & swallow, and goes on to become a member favorite!

PRE28

Edie is a very pretty 18 year old Latina who admits she would be fucking Ray whether the camera was there or not!

Alexa, a spoiled teen from the suburbs wants to get back at her parents, so she became a slut and is now absolutely desperate to break into porn. Cute girl, but not the brightest bulb! Ya gotta love it.

Ariana, who we met online online is here to show how much she wants to be part of Amateur Allure in this extended Pre-Audition adventure!

PRE12

Natalia is a pretty blonde with nice smile and a big round ass. Natalia tells Ray she gives good head and he puts her to the test. He also takes a test drive on her tight shaved cunt.

Britney has never done any modeling at all, but is here to suck off Billy for her Amateur Allure audition. She strokes and sucks his big thick rod then takes a massive load of semen in her mouth!

21-year-old Myla is a barista at a local coffee spot. Ray convinces her to do some modeling and she invites him back to her place for a nice little suck session. Myla blows his cock like a pro and swallows a nice load.

Adorable Abby is five feet of bubbly joy. They say good things come in small packages and Ray proves it by fucking Abby's pussy then coming in her pretty mouth. What a great girl!

Mischa works at a car rental place and swings by the studio on her lunch break. She's never modeled before, but Mischa sucks and strokes his rod for a nice load on camera. Hope you enjoy!